I know it's early, but it's about that time!  Romance Slam Jam (RSJ) 2014 will be held in The Big Easy!
Yup, you read that right!  RSJ 2014, the preeminent event for readers and writers of African American romance and fiction, will be taking place in THE melting pot of good music, flavorful food, and diverse culture.  I'm telling you about it now you so can put it on your radar. I'm definitely in for a trip to New Orleans and the opportunity to meet some of my fav AA authors.
Head on over to the conference website for registration details and an early program overview.  Oh, and there are discounts for early registration and for groups of 5 or more!
Hope to see you there next year!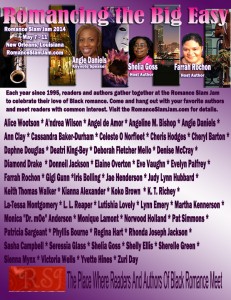 Here is the early event flyer, but it is sure to get updated as new authors sign on and plans cement, so be sure to check with RSJ often for updates.