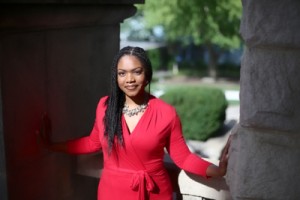 I was a tomboy as a kid. I used to sit directly on the ground and poke my fingers into dirt. I'm grown now and still have my tomboy ways. I don't mind spiders or snakes, but I hate shoe shopping and frilly dresses. Give me a net, and I'll go chase fireflies. That's about as ladylike as I get. It's not that I'm fearless. I have one phobia, much like the heroine in my novel ALL BEAUTIFUL THINGS. I am afraid of mascara.
I thought I might change when I started reading romance novels. But I stayed the same. I fell in love with cowboys and dukes and knights. I wondered if they'd fall in love with a grass-stained girl. I wondered what they would think if I was the one to rescue them.
I've lived inside every book I've ever read. I vowed never to write stories where the ladies fainted or swooned. I would spit fire like a dragon. I would win the heart of the handsome hero, and I would never ever have to do the dishes.
Good things dreams come true. I wrote ALL BEAUTIFUL THINGS as a present to my tomboy self. The Spitfire Princess in me wanted to have her day. My main character is Ava Camden. She is a princess of sorts, but she is scarred physically and emotionally. She is wealthy. She lives alone on a vast estate. She is brooding. She saves the day. And not once in the entire book did I make her wash the dishes.
What kind of hero deserves a Spitfire Princess? Read ALL BEAUTIFUL THINGS and meet Graham Sapphire. He's tall and handsome with a few scars of his own. He is the beauty and a protector in this reversal of the beauty and the beast story. What kind of kid were you: a daredevil, bookworm, prankster, tomboy, or a girly girl? What kind of adult are you: beauty or beast? Tell us in the comments.

Giveaway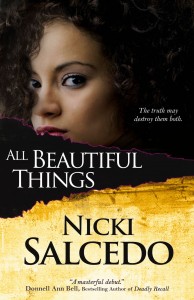 Thank you so much for stopping by! To show her appreciation for your visit, the beautiful and talented Spitfire Princess Nicki is giving away an ARC of ALL BEAUTIFUL THINGS and a t-shirt from Belle Books!
To enter, you have to:
1. Like Nicki's FaceBook page
2. Like my FaceBook page
3. Leave a comment below about your inner spitfire-ness by telling us what type of kid you were, and what type of adult you are now.
Ways to get additional entries into the giveaway are outlined in the Rafflecopter giveaway below, for those extra motivated to win a free ARC of this awesome story.
Good luck! The winner will be announced tomorrow at 7:00 a.m. cst
a Rafflecopter giveaway

Nicki Salcedo is a graduate of Stanford University with a degree in English and Creative Writing. She was born in Jamaica and raised in Atlanta, Georgia. She is a member of Romance Writers of America© and a Past President of Georgia Romance Writers. Nicki is a two‐time recipient of the Maggie Award of Excellence and a Golden Heart Finalist.
She lives in Atlanta with her four children, husband, and a cat. Nicki thinks everyone should write and loves connecting with readers. You can find her at: