Well the day has arrived! My very first story is now available for sale! WOOHOO!!
Paperback:

Kindle Format:

I was asked to be a contributing author in the Seven Dress Sizes story story collection by 7 DS Books.  I was very drawn to the collection's theme because, like most people, I, too, have fallen prey to what society deems as beauty and how I don't measure up to it.  Standards of beauty vary from country to country, industry to industry, and culture to culture, and it seems everyone (women, men, young adults, children in some cases) are always striving for "beauty and acceptance", but usually falling short because, by and large, the standard is a moving target.  What one deems beautiful, another deems unacceptable.    The thing I like about this collection is that  it showcases seven different stories about seven different dress sizes, all of whom struggling against the "beauty standard", but ultimately learning to accept themselves as they are and not be bound by their number.
There will be more to come on this topic, so I won't dive too deep today.  Instead, join me in the excitement that is my very first release date and story in publication!  The collection is available in both ebook and traditional print via Amazon.  For additional detail and purchasing, please click Seven Dress Sizes

or click the book cover above.
Seven Dress Sizes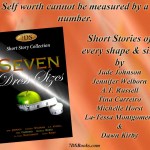 What is a woman's worth ? What is beauty? Depending on culture, commercialism, family, or our peers, men and woman have allowed society to dictate a woman's worth based on nothing more than the outer shell of her existence.
There is no perfect number. No measurement or shape is safe under the judgmental eyes of the world.
No eyes can judge a woman as harshly as her own.
Seven Dress Sizes takes you into the lives of seven different  modern women.  All struggling, in a full scope of shapes and sizes, to find the key to unlocking self worth, acceptance of  their personal beauty, and natural confidence.