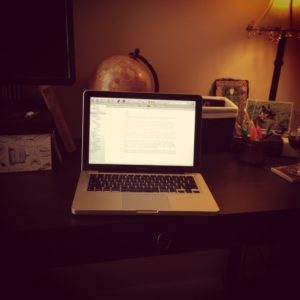 It's nearly the end of another year, hence I always feel compelled to do my audit & recap of the current year, while working on my plan for the upcoming one.  2013 has been a year of more downs than ups, but that's life for you.  On the positive tip, I've met and made connections with a new group of talented and successful authors, both published and unpublished.  And let's not forget that 2013 saw the birth of La-Tessa Montgomery as a PUBLISHED AUTHOR!!! (Can I get a WOOT WOOT for that one

).
There will be rough spots and bumps in the road, without them you won't be appreciative of the smooth patch when you hit it.  There has to be hard times and pain, because without them you wouldn't fully enjoy and appreciate the good times.
All that said, I am happy with 2013, but I could have done much more.  It's the end of the year, but I'm excited about what I have coming up.  I have a couple of irons in the fire that are ready to come out.  With that said, I challenge everyone reading this, myself included, to stop wallowing and get to doing. Regardless of what it is you are trying to accomplish, get up and make take some tangible action, no matter how small, towards getting it done.
I came across this quote a few years ago and woke up with it on my mind:
    The first step binds one to the second.  ~French Proverb
I woke up this morning energized and ready to go, a feeling that I've not had in a good 7 months or so.  What was the catalyst? In response to 2  upcoming opportunities, I sat down yesterday and developed my plan to accomplish them.  With this planning came To Do Lists.  And with To Do Lists comes the need for action on my part to accomplish these tasks. While doing this, new ideas and projects sparked to  life.  With no conscious effort, I have now have tangible leads to follow, on both the business and the creative side.
I said all that to say this, action begets action.  If you are content to be still, making absolutely no positive action towards your goal, you can't be upset when you're in the same spot days, months, or years later.  Authors are full of dreams regarding our works.  We want to hit all the best selling lists, we want to be on everyone's To Read list, and we want to be included in every book club's discussions.  Oh, and what if our book is optioned into a movie?  We can see ourselves on locations shooting scenes, the red carpets, being #1 at the box office…
We need these dreams, they help sustain us through the birthing process that is writing.  But in reality, sometimes we get caught up in too much dreaming, and not enough pushing.
I'll leave with this:
"One cannot hope to publish the story that is not yet written."
~La-Tessa Montgomery